Picking the wrong agent can be a costly and time consuming affair. Yet many recruiters don't seem to have a definitive plan on whom they should recruit. Others take the point of view that as long as the person in front of them "can fog up a mirror" and has the ability to pay desk fees, that's good enough. If you take that point of view you likely are in the "people business" and your raison d'etre happens to be real estate. In which case, skip this article I'm not offended.
The average cost to a broker who hires the wrong person, given to me by seasoned recruiters, is well over $8,700. It is certainly worth your while to invest some time and effort in learning more about the candidate you want to have on your team. For those looking for long term stability in your organization, I offer the following sage advice:
Know the benchmark
It amazes me that many seasoned brokers and owners I speak to daily do not have a measure of the production of agents. It is only through this knowledge that the above average professional can be hired.
The average "ends" for the last 12 month period, varied from 3 to 8 units. It is also fair to say that nationally, almost 50% of licensed residential real estate professionals do not make enough money to sustain their careers.
Possibly for some readers who are in a position to give great training to struggling hires, this works out well. For most of us, the recipe of hiring people who will not make money ultimately ends with a demoralized staff not conducive to high morale or profits.
Monthly sales activity
There is a tendency in the profession to rest on laurels. When you study the profile of your prospective new hire, have a look at the consistency of the candidate's production. The graph below shows that this prospective hire had almost no activity in March, April, May, and June. It is possible that you might not see any activity from the new hire after a period of successful sales.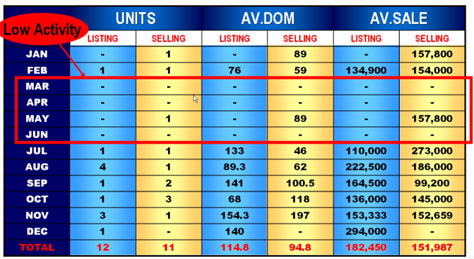 Another key criterion I recommend is what I call the comfort graph. By charting the performance of the MLS (in blue) and the performance of your prospective candidate (in red) you can quickly see if the candidate performs according to your expectations.If the market is doing poorly it would not be unusual for the professional's sales activity not to be poor. Conversely if the market is hot and the candidate does poorly, that might indicate a lack of talent or ability. There is comfort in knowing that a sales representative performance is in tune with the market activity.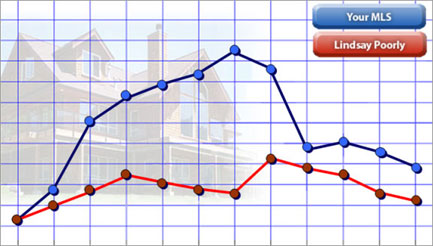 What you are likely looking for is someone who actually outperforms what the overall real estate market is doing with a performance level of Joe Superstar.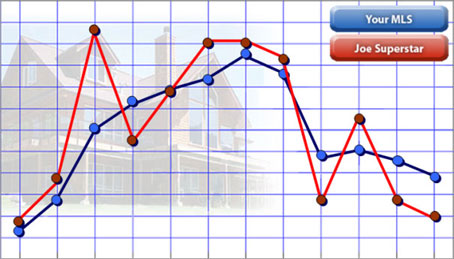 You will note that Joe follows the market trend and in many months exceeds it.Picking the right people for your team should not be a guessing game. You can spend many hours doing your own research, or you can make intelligent informed choices with tools that are available to you, like REality.
No matter how your market is doing, this is the perfect time to take the time to add long term candidates to your organization.
---
All articles and statistics provided by REality® ©REstats.com.
For more information or to inquire about using the articles and data presented, contact leon@REstats.com.
---