I last left you reading "The Fine Art of Recruiting the Right Agents: Part One", so it follows that Part Two was in the wind. The caveat of Part One still applies: If you take the point of view that your recruiting criteria is based on the premise that as long as the person in front of you "can fog up a mirror" and has the ability to pay desk fees, that's good enough, move on to the next page. I'm not offended.
For almost three decades as the CEO of IMS Incorporated, I have been refining and honing the recruiting process, into a symphony in tune with today's best computer practices. I call it REality®. The result is that for most recruiters the art of attracting and recruiting staff is no longer a tedious and often fruitless waste of time. The premise of REality Recruiting™ is quality, not quantity. Much more on this in Recruiting part three.
Start by thinking about the average cost of hiring the wrong person, which according to seasoned recruiters, is well over $8,700. That demands you invest time and effort in learning more about a potential candidate you might want to have on your team.
Next, know what the average agent's performance level is. Sorry but most recruiters assume incorrectly. They work with misleading benchmark data, so they cannot discern between recruits that are poor, average, good, great and greatest. You can do this with REality in minutes!
Below is a typical large MLS' 12-month performance of its agents. Find this in the recruiting version of REality. Note that 53.99% of participants do 4 ends or less. This is generally true of most of North America's agents. In recruiting part three, we will talk about the pathetic income of over 51% of real estate professionals. I do not know of another work endeavor where more than half of its participants did not make enough money to sustain their career. Please note: the chart only includes those who did a transaction in the last 12 months.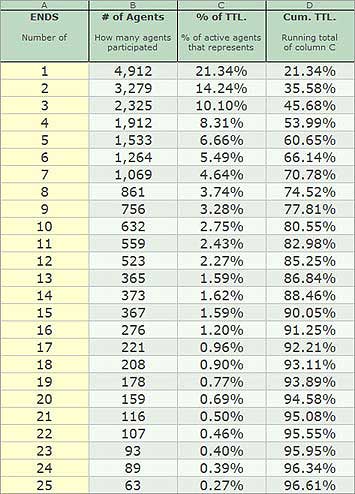 By understanding the performance of your candidate, it is entirely possible to know more about the candidate than the candidate knows about herself.

By studying the achievements of this agent, here are 7 conclusions you can draw:
With 45 combined listing and selling ends Till Eulenspiegel is in the top 1.49% of all agents on his MLS.
Till's ratio of listing ends to selling ends is ideal, according to most real estate coaches.
9 out of 28 listing ends were "double ends", which is 32%. The average double end in his MLS is 13.7%.
Days on market were not his strength. With a benchmark of 42 days, Till racked up an average 70.8 days!
The average sold to ask ratio for this MLS was 97.28%. Till's was 97.60. That means he got $791.54 more than average every time one of his listings sold.
Eulenspiegel's average sale is considerably below the norm. On investigation, it turns out that he specialized in condos.This may or may not suit your needs in a recruit
Most revealing about Till's performance  is that not one of his listings sold at 100% of the last asking price.
The ability to make your recruiting call so different and unique from all the calls this agent's received this month is where a little research really pays off. In Recruiting part Three, I will show you how you can get a call-back ratio of 62% on your outbound calls.
To those of you who like to write recruiting letters because making those phone calls is too much bother: Please remember that smart agents keep those letters in their listing portfolios. When confronted with a seller who wants to list with So & So Realty, they quickly whip out their listing book, turn to your letter and say. "Yes So & So Realty is a good company, they asked me to come and work for them. But I decided to stay with my office because they are more progressive and productive".
Ah I know. You are going to send email spam! Please wake up. Email solicitations for R.E.professionals to join your office are dead, buried and don't work. They may work for the potential recruit who will save the emails just like s/he saved your letters.
The underlying reason professionals move to another office is because of the charisma of the broker. That charisma is immediate when you leave an informative message to get a callback. See Recruiting part 3. It is the very essence of REality because it helps you make a great first impression. Best of all you will grow your office quickly with the right staff to fit your needs perfectly.
Book Your 12 Minute Demo to see this data live!
Footnotes:
Fig. 1: This report type
Fig. 2: This other report type
---
All articles and statistics provided by REality® ©REstats.com.
For more information or to inquire about using the articles and data presented, contact leon@REstats.com.
---